RSA SecurID 700 Authenticator

RSA SecurID Hardware Tokens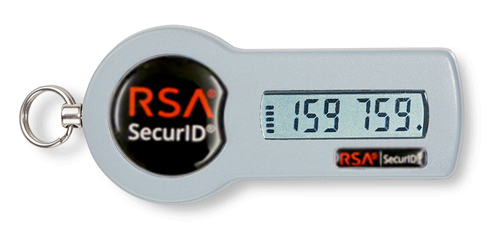 RSA Products
RSA SecurID Authenticator SID700 Pack
RSA SecurID Authenticator SID700 5 Pack 2 Years
#SID700-6-60-24-5
Our Price: $300.00
RSA SecurID Authenticator SID700 10 Pack 2 Years
#SID700-6-60-24-10
Our Price: $600.00
RSA SecurID Authenticator SID700 25 Pack 2 Years
#SID700-6-60-24-25
Our Price: $1,500.00
RSA SecurID Authenticator SID700 50 Pack 2 Years
#SID700-6-60-24-50
Our Price: $3,000.00
RSA SecurID Authenticator SID700 100 Pack 2 Years
#SID700-6-60-24-100
Our Price: $6,000.00
RSA SecurID Authenticator SID700 250 Pack 2 Years
Click here to jump to more pricing!
Overview:
The RSA SecurID 700 is a small key fob that connects easily to any key ring and fits into a user's pocket or small carrying case. It's display includes a countdown timer until the next tokencode is displayed, as well as the tokencode itself in an easy to read window.
Security tokens for identity and access management
Protect sensitive data and mission-critical systems with the industry's highest-quality two-factor authentication device. Gain two-factor authentication, hard disk encryption, email and transaction signing capabilities with a single hardware token.
For three decades, RSA SecurID tokens have been synonymous with performance and reliability. Long before introducing the software token or tokenless (risk-based) authentication, RSA was protecting organizations with the RSA SecurID hardware token – authenticating users by leveraging "something they know" (user name and passcode) and "something they have" (the PIN code on the token). Today, the RSA SecurID hardware token comes in a pair of convenient models that all generate and display new codes every 60 seconds.
High Quality, Reliable Authentication
For an enterprise depending on the broad distribution of authenticators to protect access to information and applications, token reliability is a major concern. RSA authenticators leverage the AES-128 algorithm, utilizing the most up-to-date crytographic standards. RSA offers industry-leading levels of reliability and RSA SecurID hardware tokens are designed to withstand the worst imaginable conditions. From temperature cycling to mechanical shocks to being immersed in water, RSA SecurID hardware tokens are subjected to rigorous tests to ensure that organizations do not face hidden costs due to widespread token failures.
At a glance
RSA SecurID hardware tokens offer three decades of historic performance and reliability
Offered in a pair of convenient models that offer basic tokencode functionality, or a USB form factor that provides additional smartcard capabilities
Hardware tokens that leverage the AES-128 algorithm and are time synchronous
These tamper-resistant tokens have undergone rigorous physical testing to ensure a high quality product
Benefits:
RSA SecurID hardware tokens are tamper resistant and designed to withstand extreme physical conditions including dramatic temperature variations, submersion in water and mechanical shock. An extended warranty protects RSA SecurID hardware tokens across the lifetime of the device.
Choose between two hardware token models: RSA SecurID 700 and RSA SecurID 800. Both keyfob style devices share similar features, though the RSA SecurID 800 has a USB and can be used for storing Windows credentials and digital certificates.
RSA SecurID hardware tokens can be enabled for 24, 36, 48 or 60 months, depending on your organization's needs.
Both hardware token models are customizable: The six-digit display can be customized to show four digits, and one-time passwords can be set to change every 30 seconds from the standard 60 seconds. You can further customize your device by adding your organization's logo.
Facilitate a range of functions, including two-factor authentication, hard disk encryption and email signing, with a single hardware token.
Reduce the cost of procuring, administering and managing hardware tokens. RSA SecurID hardware tokens consistently and reliably generate access codes and are known for their durability and long battery life. These qualities minimize the need for costly replacements, improve total cost of ownership and reduce calls to the helpdesk to address token-related problems.​
RSA SecurID hardware tokens employ an authentication approach that combines time, the AES-128 algorithm and a unique identifier to strengthen cryptographic value. Established by the National Institute of Standards and Technology, the AES-128 algorithm was approved by the U.S. National Security Agency to protect classified information up to the level of secret.
Specifications:
Technical Specifications
Style
Key fob
Available on
RSA Authentication Manager and SecurID Authentication Engine (SAE)
Artwork customization available
Yes
Number of digits displayed
6 standard; can be customized to 4
Display change time for one-time password (OTP)
60 seconds; can be customized to 30 seconds
Duration availability
24, 36, 48, and 60 months
Applications
OTP
Pricing Notes:
Pricing and product availability subject to change without notice.
RSA Products
RSA SecurID Authenticator SID700 Pack
RSA SecurID Authenticator SID700 5 Pack 2 Years
#SID700-6-60-24-5
Our Price: $300.00
RSA SecurID Authenticator SID700 10 Pack 2 Years
#SID700-6-60-24-10
Our Price: $600.00
RSA SecurID Authenticator SID700 25 Pack 2 Years
#SID700-6-60-24-25
Our Price: $1,500.00
RSA SecurID Authenticator SID700 50 Pack 2 Years
#SID700-6-60-24-50
Our Price: $3,000.00
RSA SecurID Authenticator SID700 100 Pack 2 Years
#SID700-6-60-24-100
Our Price: $6,000.00
RSA SecurID Authenticator SID700 250 Pack 2 Years
RSA SecurID Authenticator SID700 Per User Quantity
RSA SecurID Authenticator SID700 Per User Quantity 2 Years 255 - 750 Users
#SID700-6-60-24-A
Our Price: $48.69
RSA SecurID Authenticator SID700 Per User Quantity 2 Years 755 - 1500 Users
#SID700-6-60-24-B
Our Price: $46.11
RSA SecurID Authenticator SID700 Per User Quantity 2 Years 1505 - 2500 Users
#SID700-6-60-24-C
Our Price: $42.53
RSA SecurID Authenticator SID700 Per User Quantity 2 Years 2505 - 5000 Users
#SID700-6-60-24-D
Our Price: $38.33
RSA SecurID Authenticator SID700 Pack
RSA SecurID Authenticator SID700 5 Pack 3 Years
#SID700-6-60-36-5
Our Price: $372.00
RSA SecurID Authenticator SID700 10 Pack 3 Years
#SID700-6-60-36-10
Our Price: $744.00
RSA SecurID Authenticator SID700 25 Pack 3 Years
#SID700-6-60-36-25
Our Price: $1,860.00
RSA SecurID Authenticator SID700 50 Pack 3 Years
#SID700-6-60-36-50
Our Price: $3,720.00
RSA SecurID Authenticator SID700 100 Pack 3 Years
#SID700-6-60-36-100
Our Price: $7,440.00
RSA SecurID Authenticator SID700 250 Pack 3 Years
RSA SecurID Authenticator SID700 Per User Quantity
RSA SecurID Authenticator SID700 Per User Quantity 3 Years 255 - 750 Users
#SID700-6-60-36-A
Our Price: $60.42
RSA SecurID Authenticator SID700 Per User Quantity 3 Years 755 - 1500 Users
#SID700-6-60-36-B
Our Price: $56.70
RSA SecurID Authenticator SID700 Per User Quantity 3 Years 1505 - 2500 Users
#SID700-6-60-36-C
Our Price: $53.55
RSA SecurID Authenticator SID700 Per User Quantity 3 Years 2505 - 5000 Users
#SID700-6-60-36-D
Our Price: $48.30
RSA SecurID Authenticator SID700 Pack
RSA SecurID Authenticator SID700 5 Pack 4 Years
#SID700-6-60-48-5
Our Price: $444.00
RSA SecurID Authenticator SID700 10 Pack 4 Years
#SID700-6-60-48-10
Our Price: $888.00
RSA SecurID Authenticator SID700 25 Pack 4 Years
#SID700-6-60-48-25
Our Price: $2,220.00
RSA SecurID Authenticator SID700 50 Pack 4 Years
#SID700-6-60-48-50
Our Price: $4,440.00
RSA SecurID Authenticator SID700 100 Pack 4 Years
#SID700-6-60-48-100
Our Price: $8,880.00
RSA SecurID Authenticator SID700 250 Pack 4 Years
RSA SecurID Authenticator SID700 Per User Quantity
RSA SecurID Authenticator SID700 Per User Quantity 4 Years 255 - 750 Users
#SID700-6-60-48-A
Our Price: $71.55
RSA SecurID Authenticator SID700 Per User Quantity 4 Years 755 - 1500 Users
#SID700-6-60-48-B
Our Price: $67.73
RSA SecurID Authenticator SID700 Per User Quantity 4 Years 1505 - 2500 Users
#SID700-6-60-48-C
Our Price: $64.05
RSA SecurID Authenticator SID700 Per User Quantity 4 Years 2505 - 5000 Users
#SID700-6-60-48-D
Our Price: $57.75
RSA SecurID Authenticator SID700 Pack
RSA SecurID Authenticator SID700 5 Pack 5 Years
#SID700-6-60-60-5
Our Price: $516.00
RSA SecurID Authenticator SID700 10 Pack 5 Years
#SID700-6-60-60-10
Our Price: $1,032.00
RSA SecurID Authenticator SID700 25 Pack 5 Years
#SID700-6-60-60-25
Our Price: $2,580.00
RSA SecurID Authenticator SID700 50 Pack 5 Years
#SID700-6-60-60-50
Our Price: $5,160.00
RSA SecurID Authenticator SID700 100 Pack 5 Years
#SID700-6-60-60-100
Our Price: $10,320.00
RSA SecurID Authenticator SID700 250 Pack 5 Years