RSA Archer IT and Security Risk Management

Compile a Complete Picture of Technology-Related Risks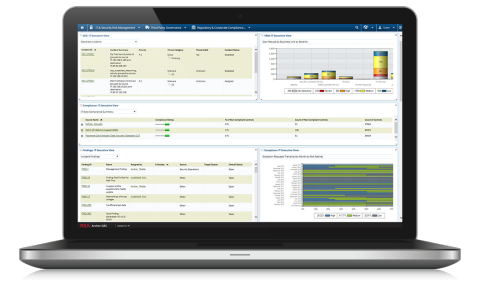 Overview:
A leader in the Gartner 2017 Magic Quadrant for IT Risk Management
Implement best practices for identifying and managing IT risks
Quantify your organization's financial risk exposure to security events
Organizations battle growing security challenges by building layer upon layer of defenses: firewalls, antivirus, intrusion prevention systems, intrusion detection systems, vulnerability scanners, security policies, identity management, physical access controls and more. While these layers are necessary to provide fundamental defense and protect against today's threats, each layer also adds a level of complexity to the security infrastructure. This increased complexity makes it harder to clearly reconcile where security risks are emerging, and at what velocity threats could materialize.
Security functions are also challenged with growing security-related data created by these layers of defense, adding to the already crushing mountain of business data they are mandated to protect. Without a solid understanding of what data is most important to the business, IT and security teams struggle to determine which security events are the most relevant.
Security is increasingly impacted by today's technology shifts, most notably the transition of business elements to the cloud and external providers. As companies migrate more business-critical processes and IT services outside the perimeter, security controls will rely heavily, if not completely, on outside parties. This shift to the third platform increases the challenge of both security and compliance requirements.
Today's constantly changing threats and incidents raise the interest of executives in how the organization deals with increased cyber risk. More than ever, executives are concerned about security risks—reputational damage, financial impacts and regulatory exposure, and the pure cost of investigation and resolution of a breach or other security event.
Bringing Insight to IT & Security
In order for IT risk and security functions to compile and render a complete picture of technology-related risk, multiple operational groups must collaborate and coordinate efforts. Security policies must be aligned to regulatory and business requirements. Threat and vulnerability management processes must be agile to stay ahead of growing threats. Security operations must be active and diligent in order to swiftly identify active attacks against the organization and protect assets at risk. Security strategy must look beyond the immediate and tactical to bring innovative and cost-effective solutions to bear. Finally, security compliance must ensure the proper controls are designed and operating effectively.
Conclusion
RSA Archer IT & Security Risk Management provides a business risk-based approach to security, enabling you to reduce the risk of today's security threats, misaligned security practices and operational security compliance failures. You can establish business context for security, document and manage security policies and standards, detect and respond to attacks, and identify and remediate security vulnerabilities.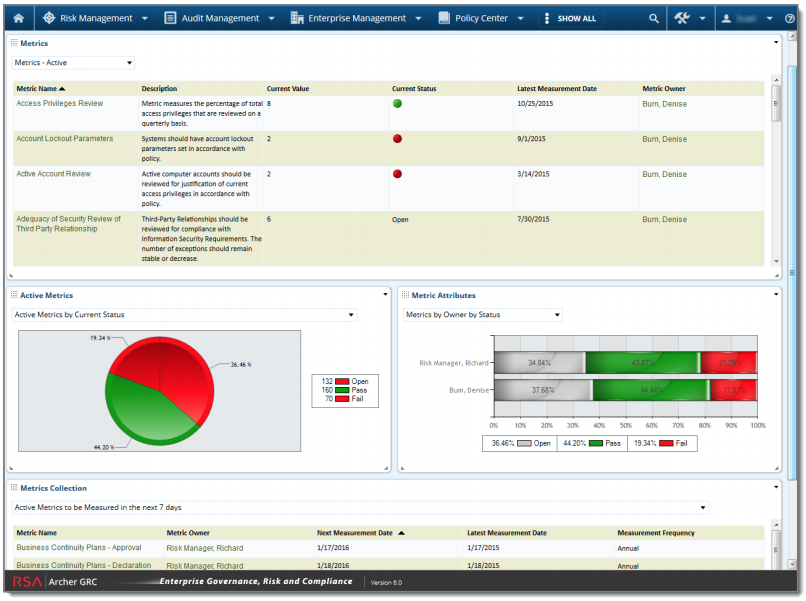 Benefits:
Compiles a Complete Picture of Security Risks
RSA Archer IT & Security Risk Management lets you document and report on IT risks and controls, security vulnerabilities, internal and external audit findings, external regulatory obligations, and issues arising from security incidents and failed or deficient internal controls.
Eases Communication with the Board/Makes Board Meetings Less Painful
Use cases for managing security issues, quantifying the financial impact of cyber risk, testing controls, and more include robust reporting features so that you can speak to the board and senior management more accurately and confidently about your organization's security posture.
Helps You Prioritize Security Investment and Activity
By helping you quantify cyber risk and by giving you unparalleled visibility into security vulnerabilities, incidents, regulatory obligations, and more, RSA Archer IT & Security Risk Management makes it easier to prioritize investments, issue remediation and incident response.
Streamlines Cyber Incident & Breach Response
The use case for cyber incident and breach response gives you the ability to document which IT assets are most critical to your operations, which makes it easier for SOC analysts to zero in on the incidents that matter most. Pe-built workflows are designed to accelerate breach response.
Advantage:
With RSA Archer IT & Security Risk Management, your security function can benefit from enhanced visibility, analytics, action and metrics.
Connect cybersecurity risks in the context of GRC
With today's interconnected business processes, organizations must be able to effectively address the complexity and cascading impact of rapidly changing cybersecurity risks. RSA Archer can connect your security processes and data with risk and compliance functions across the enterprise. The IT and security risk functions can then consider the relationship between business risk and IT risk in terms of business criticality to establish ownership and accountability, and connect IT and security risk to broader governance, risk and compliance programs.
Address IT & security risk management through multiple dimensions
To effectively manage IT and security risk, you must organize your security program in such a way that you can manage the full spectrum of IT security risks. Your IT and security risk program must address risk management from multiple dimensions—from policies, standards and compliance to threats, vulnerabilities and attacks. RSA Archer enables IT and security teams to centrally manage processes, prioritize cyber threats and stay on top of the latest threats.
Bridge business context and process enablement
Managing IT and security risk today involves significantly more than just data speeds and feeds. IT risk must be understood in business terms because technology issues could put the entire organization at serious risk. By ensuring alignment between the business and IT, your IT and security risk management program can facilitate what needs to be addressed to keep the business secure. RSA Archer IT & Security Risk Management fills the gap between people and technology by establishing processes to identify and escalate risks effectively and efficiently.
Use Cases:
New and emerging IT and security threats are pervasive in today's complex businesses. RSA Archer IT & Security Risk Management allows you to determine which assets are critical to your business, establish and communicate security policies and standards, detect and respond to attacks, identify and remediate security deficiencies, and establish clear IT risk management best practices.
RSA Archer IT & Security Risk Management provides a variety of use cases to meet your specific business needs on your risk management maturity journey.